Brexit Preparation & Government/Policy Update
Blogs on 13th September 2019
Brexit – How we are helping our members to prepare:
FinTech firms in the UK are getting on with business as usual, despite the ongoing uncertainty surrounding Brexit. We sent out our Brexit Preparation Survey over the summer to provide insight into the preparedness of the fastest-growing sector of the UK economy, as it prepares its members for exit from the European Union.
Our survey asked the FinTech community (both members & non-members) about their current planning. The information obtained was used to shape discussions with the government. Key statistics from the survey include:
43% of respondents believe passporting, cross border transactions; and servicing EU clients will be the most affected areas by Brexit
17% of respondents are considering moving to a different jurisdiction
23% of respondents would appreciate additional information from Government about Trade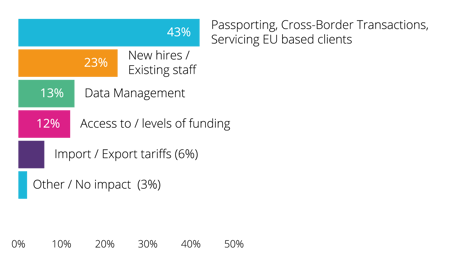 UK FinTech continues to go from strength to strength, with record investment levels into the sector in the first half of 2019, despite all the political uncertainty. While Brexit is a risk, it is somewhat mitigated by the ability of nimble FinTech's to act quickly and pivot. That said, our members are clearly eager for Brexit to be delivered without a cliff-edge scenario that will put their prospects in flux.
Innovate Finance, as the voice of UK FinTech, is determined to support its members during this challenging time, by distilling and passing on information given to us from Government, professional services firms and regulators.
That's why we have been in constant communication with Government and regulators over the past weeks and months, ensuring we can provide the information and support you require.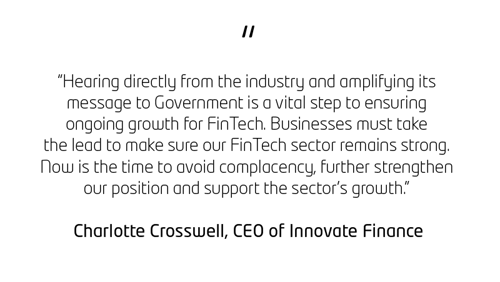 As part of our ongoing preparation, Innovate Finance and Hogan Lovells co-hosted a Brexit focused roundtable with FinTech companies to share and discuss their key preparations, considerations and concerns in planning for Brexit.
Charlotte also contributed a compelling opinion piece in City AM earlier this week, urging industry to take the lead amid the unpredictability: "Innovation has enhanced global respect for the UK's finance sector. It is vital that the industry does not allow itself to be delayed and distracted by political turmoil. Instead, we must embrace FinTech's key role in the economy, be bold about the future of the sector, and set the foundations for economic success in years to come."


---
Keeping in touch with Government
Last week our CEO, Charlotte Crosswell, joined discussions between senior City stakeholders and the new Chancellor, Sajid Javid MP. On behalf of our members, she raised a number of points reflected by early findings from our Brexit preparation survey, and on-going conversations with the community. Key points stressed included:
Access to talent for fast-growing FinTech companies
International attractiveness of the UK for growth and further investment
Increased support to small and medium-sized firms in their Brexit preparations.
Charlotte also attended EST discussions earlier this week between Trade Associations and Economic Secretary to the Treasury John Glen MP, as well as many other key government officials. Charlotte raised a number of important concerns including:
EMI regulation change – regulation changes to allow FinTechs to flourish
Post study work visas
Global Financial Partnerships + more
To read all the key agenda points and a summary of the meeting, click here. 
---
Recent Policy Updates
The Financial Conduct Authority (FCA) is also stepping up its efforts to ensure firms are aware of what they need to do to prepare for the potential of a no-deal Brexit. To help firms prepare, the FCA will be running a series of digital adverts signposting to the FCA Brexit webpages, and has set up a dedicated telephone line (0800 048 4255).  This is the most recent phase of the regulator's preparations for a no-deal. The FCA is urging all firms to consider the implications of a no-deal exit and finalise their preparations
We welcomed the news on Wednesday that Government decided to reverse the earlier curb on post-study work visas, meaning international students can now remain in the UK for two years after finishing their studies.
We had worked tirelessly with our members and campaigned alongside other trade bodies to support this change, raising it as key to the FinTech sector's continued success in all our recent discussions with Government ministers and officials.
As your industry body, we want to reiterate that we are here to support you every step of the way over the coming months to ensure you are in the best possible position to succeed. Please do get in touch with the team if you have any questions or concerns.
Charlotte Crosswell
CEO