What is FinTech for Schools?
Our vision is to create a journey that showcases industry role models, promotes financial education, but also provides interactive content in order to learn the basics of the new and exciting opportunities available in this sector. The programme will be delivered through engagement with schools and online media channels. We want to give young people the opportunity to access and interact with the content through their mobile devices. In a future phase, we would look to offer some form of training accreditation and work placement programme with existing FinTech Companies.
As the FinTech sector continues to grow, so will the need for talent. We therefore want to encourage the broadest talent at an early age to consider the potential career options across the FinTech industry and raise awareness about the continued growth within the sector.  
Why do we need FinTech for Schools?
To inspire the next generation of FinTech leaders and raise young people's ambitions for innovation in financial services.
To support a future domestic pipeline of talent.
To encourage young people to understand the increasing importance of digital skills in the workplace, with an emphasis on ensuring the sector is appealing to girls.
To target secondary school students to inspire them at this crucial point in their lives, as they make decisions between universities or more specialised further education such as apprenticeships.
To support Innovate Finance member companies with their skills and talent requirements, by providing an umbrella to tie together the various skills programmes developed across member firms.
Coming Soon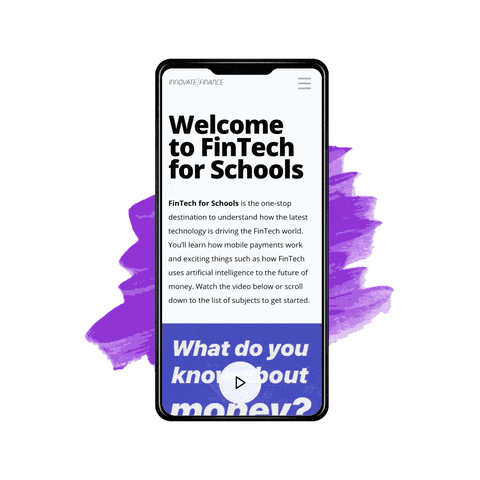 Mobile Web App
FinTech for Schools is the one-stop destination to understand how the latest technology is driving the FinTech world. You'll learn how mobile payments work and exciting things such as how FinTech uses artificial intelligence to the future of money.
#BestInClass Video Series
In support of the initiative, we reached out to the FinTech community to talk about their experiences getting into FinTech, their best advice for students looking to work in the sector and why FinTech is so important to the future of our society. This was all in aid of inspiring the next generation of FinTech talent and raising awareness of the diversity and possibilities in FinTech for everyone, especially young girls!
Presentation Slides
A career in finance and technology is becoming more and more accessible as FinTech revolutionises how people and businesses use financial services. Innovate Finance has put together this presentation pack, for anyone wanting to present on and demystify the sector. We have included the following:
Helpful graphics describing what FinTech is
Testimonials about FinTech from people who work in the sector
Statistics around diversity in FinTech and what more needs to be done
A Kahoot Quiz to test your knowledge
Compilation video of a collection of FinTech innovators providing their advice for getting into the sector.
We do ask that you keep the Innovate Finance branding throughout, but please feel free to add your own resources and wording to make sure the pack can work for the presentation you are working on.
FinTech Quiz
We have put together a fun Kahoot Quiz to test your FinTech knowledge! Please use this quiz in your presentations, talks or meetings to see how well people really know the sector!
Get Involved
Fill out the form below if you're interested in being a part of FinTech for Schools