How can you get involved?
Our vision is to create a journey that showcases industry role models, promotes financial education, but also provides interactive content in order to learn the basics of the new and exciting opportunities available in this sector. The programme will be delivered through engagement with schools and online media channels. We want to give young people the opportunity to access and interact with the content through their mobile devices. In a future phase, we would look to offer some form of training accreditation and work placement programme with existing FinTech Companies.
As the FinTech sector continues to grow, so will the need for talent. We therefore want to encourage the broadest talent at an early age to consider the potential career options across the FinTech industry and raise awareness about the continued growth within the sector.  
FinTech for Schools App
Developed together with Deloitte, our FinTech for Schools App is the one-stop destination to understand how the latest technology is driving the FinTech world. You'll learn how mobile payments work, how your data is really used and exciting things such as how FinTech uses artificial intelligence and what the future of money is.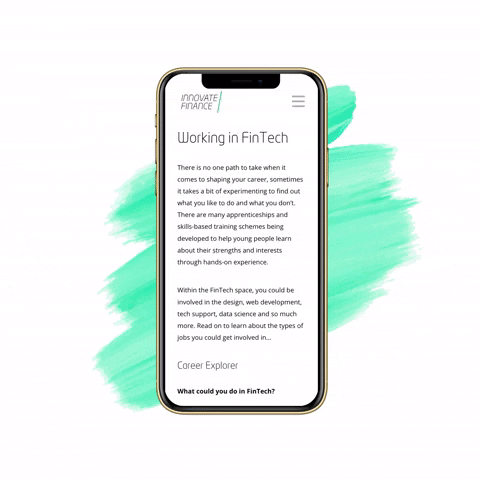 FinTech Masterclasses
Our mini FinTech Masterclass videos delivered by industry experts provide an educational overview on some of the hottest trends in FinTech. An introduction to investing, saving, credit, pensions and more. Learn about various careers on offer and understand what the different branches of FinTech actually do. Our FinTech Masterclasses will provide valuable insights on subjects that matter to you, delivered in an easy digestible format.
The Importance of Savings and Overdrafts
Presented by Dozens
Ethical data – How are the big tech firms using your data?
Presented by Newcastle University
What is FinTech to Visa?
Presented by Visa
Careers talk with Tikhoze Banda
Presented by MANGOPAY
The virtual work experience and insight days will be offered by Innovate Finance and its members in partnership with Speakers for Schools: from small startups, to financial institutions, consultancies and big tech firms.
It gives students the chance to learn about the exciting and innovative FinTech sector and what makes the UK FinTech scene one of the world's leading. It will provide students with the opportunity to connect with companies at the cutting edge of innovating our financial services sector. Students can learn about different roles and receive tips on how to thrive in the workplace. It is also an opportunity for students to make early connections with industry leaders and find potential mentors and future employers.
Presentation Slides
A career in finance and technology is becoming more and more accessible as FinTech revolutionises how people and businesses use financial services. Innovate Finance has put together this presentation pack, for anyone wanting to present on and demystify the sector. We have included the following:
Helpful graphics describing what FinTech is
Testimonials about FinTech from people who work in the sector
Statistics around diversity in FinTech and what more needs to be done
A Kahoot Quiz to test your knowledge
Compilation video of a collection of FinTech innovators providing their advice for getting into the sector.
We do ask that you keep the Innovate Finance branding throughout, but please feel free to add your own resources and wording to make sure the pack can work for the presentation you are working on.
FinTech Quiz
We have put together a fun Kahoot Quiz to test your FinTech knowledge! Please use this quiz in your presentations, talks or meetings to see how well people really know the sector!
Get Involved
Fill out the form below if you're interested in learning more about FinTech for Schools: